Follow Up Boss (Follow Up Boss) is an agent level integration that allows the account owner in Follow Up Boss to connect their account to their RealScout agent account and also perform account connection for any teammates in Follow Up Boss.
Setup
Team Account Connection Steps:
In order to connect your Follow Up Boss team to RealScout and transfer leads to the respective team member our RealScout Member Success team will need to connect you and your team members. Please fill out this form or email support@realscout.com with the names of your team members and their emails. The team members email address must be the same as what they're using in RealScout/Follow Up Boss.
Connecting Follow Up Boss:
In order to connect RealScout to Follow Up Boss, the account owner needs to log into followupboss.com and navigate to Admin → API. Here you'll need to generate an API key and save it.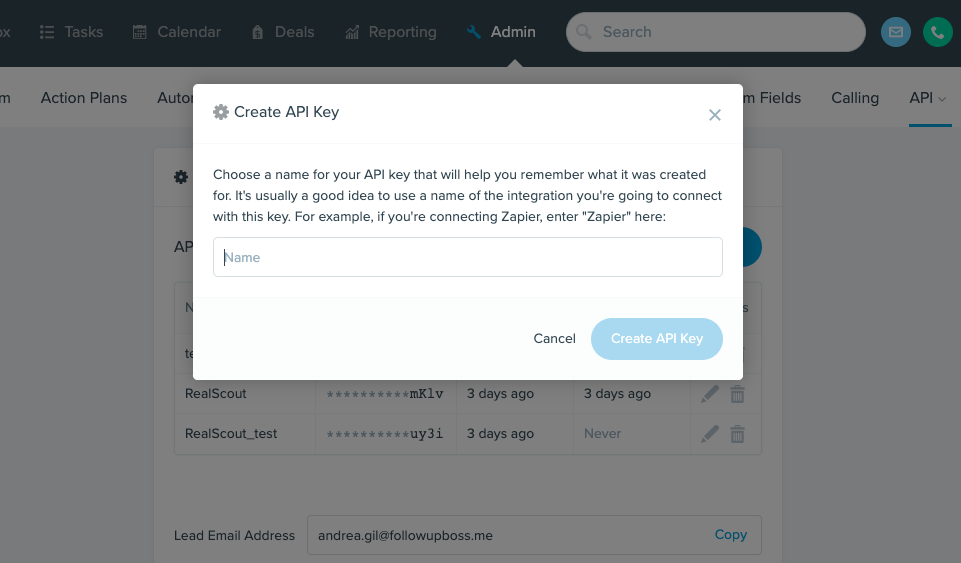 Creating an API key
Once the API key is created, sign into your RealScout account and navigate to www.realscout.com/agent/marketing/integrations. Enter in your API key and click Connect Account: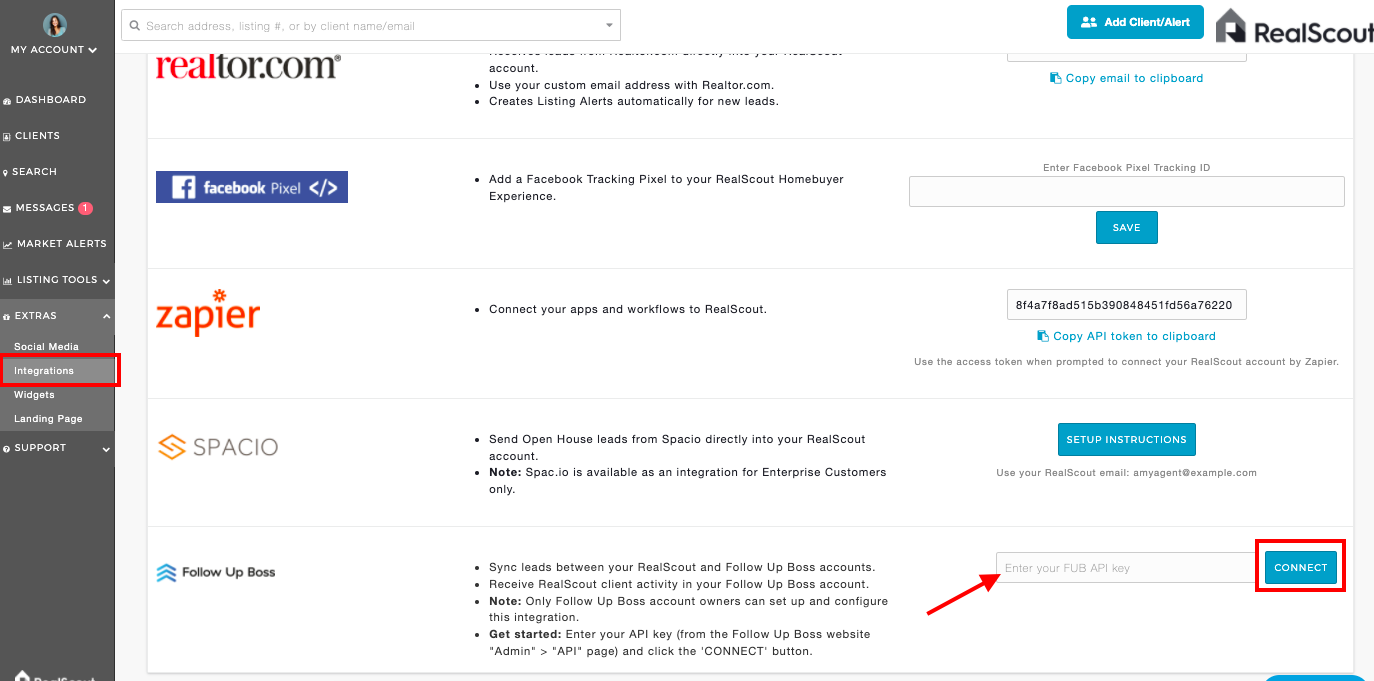 Now that you've connected your account you have a few different configuration options available to you.
Configuration Options:
Enabled
Enable your RealScout <> Follow Up Boss integration in order to:
Import new clients into your RealScout account from the leads you add in Follow Up Boss.

Make updates to clients when changes are made in Follow Up Boss.

Delete clients in RealScout when you "Trash" leads in Follow Up Boss.

Transfer clients to your team members on your RealScout account when you utilize the Follow Up Boss Integration team functionality.
Transfer leads
Transfer clients in RealScout to a team member with a valid RealScout account. When utilizing the Follow Up Boss Team integration you can assign a lead to a team member on Follow Up Boss and that client will then also be transferred on RealScout. Your team member must have an active RealScout account. If you are not currently connected to your team, please contact our support team or fill out this form to connect.
Now you can click CONNECT TEAM MEMBERS you'll also want to be sure to select Transfer Leads: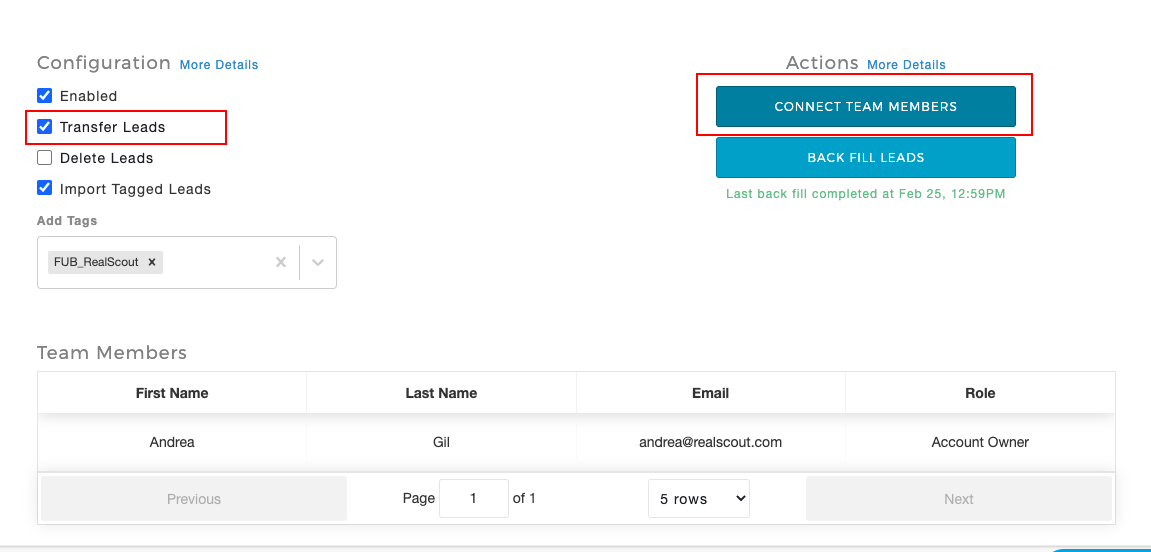 Once team members are connected and the option to transfer leads is selected the leads from Follow Up Boss will route to the correct team members RealScout account.
Delete leads
Delete clients in RealScout when the leads stage is updated to 'Trash' or the lead is permanently deleted in Follow Up Boss. If a lead is deleted in Follow Up Boss, the corresponding RealScout client will be deleted regardless of tags, or who deleted it (ie, RealScout will delete the client even if a Follow Up Boss team member deleted it).
Filter Leads By Tags
Only import or update leads from Follow Up Boss with specific tags. If one or more of the tags provided in RealScout match a tag in Follow Up Boss, the lead will be imported, updated, or deleted from RealScout accordingly. Leads pushed into Follow Up Boss from RealScout will be tagged "RealScout" automatically. If this option is enabled you should include the tag "RealScout" to ensure updates from Follow Up Boss get processed in RealScout.