There are many ways to utilize RealScout in your everyday Social Media posts, we'd like to highlight a few here that are asked for from our Member Success coaches often.
Creating a search to share on social media:
1. Here's a video to help you learn to do this: https://support.realscout.com/hc/en-us/articles/360016702971-How-to-create-a-search-to-share-on-Social-Media
Quick tip: Use an Excel or Google Sheet to keep track of the searches you create, our url's update based on your Listing Service data, so no need to constantly recreate! Just reuse!
I've created one you can download here: My RealScout URL List
3. Use RealScout links on your Website
Lots of agents use our shareable links on their website. You can hyperlink these urls to images or text. Either way its a great way to highlight specific areas you specialize in on your website. Your clients will be taken to your RealScout account and if you enable Forced Sign Ups, they'll need to sign up to search with you!
Here's a great example of what one realtor did on her site, each neighborhood to the left of the map is hyperlinked to her RealScout social searches: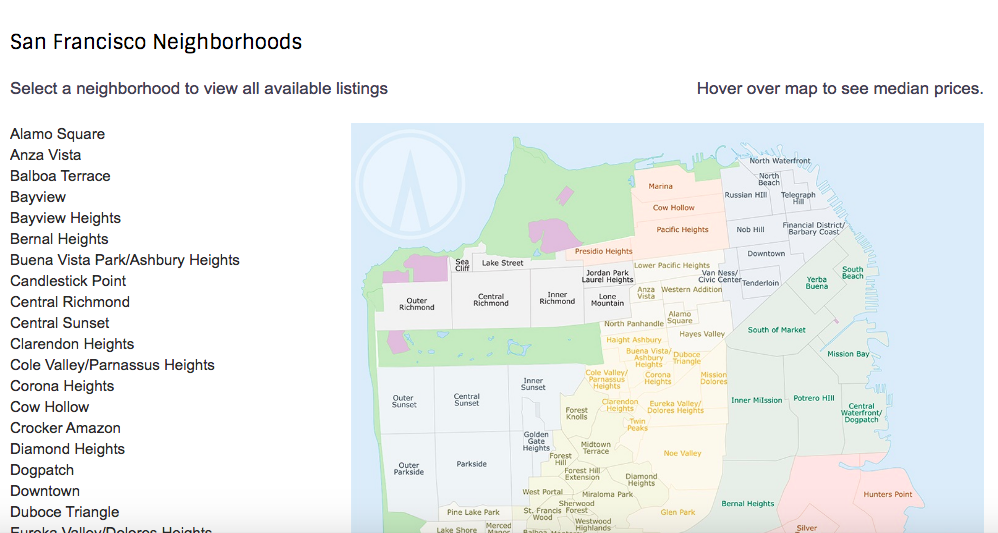 4. Use Zapier to make your life easier!
RealScout offers lots of great Integrations you can use to bring in leads, create alerts or track your users. Zapier however has changed the game in what you can and can't do with RealScout and a plethora of other sites you use. Here's a great article about how one agent used Zapier to save 4 hours every day: https://zapier.com/blog/matt-keller-williams/
Zapier does offer free accounts, but as any site you may have to upgrade to use their more advanced Zaps. If you use lots of tools on a daily basis it would certainly be a great option for you.
Check out which apps you can connect to RealScout here: https://zapier.com/apps/realscout/integrations
Have another question or want to take a deeper dive into Social Media and RealScout? Email us support@realscout.com or call us 650-397-6500 ext 2