If you would like to export your all time RealScout clients and identify those that have unsubscribed over time, below are helpful steps.


HOW DO I EXPORT?

You can export your clients from you RealScout account by going to the CLIENTS tab on your left hand side grey bar, scrolling to the bottom, and clicking the "EXPORT ALL CLIENTS (CSV)" link: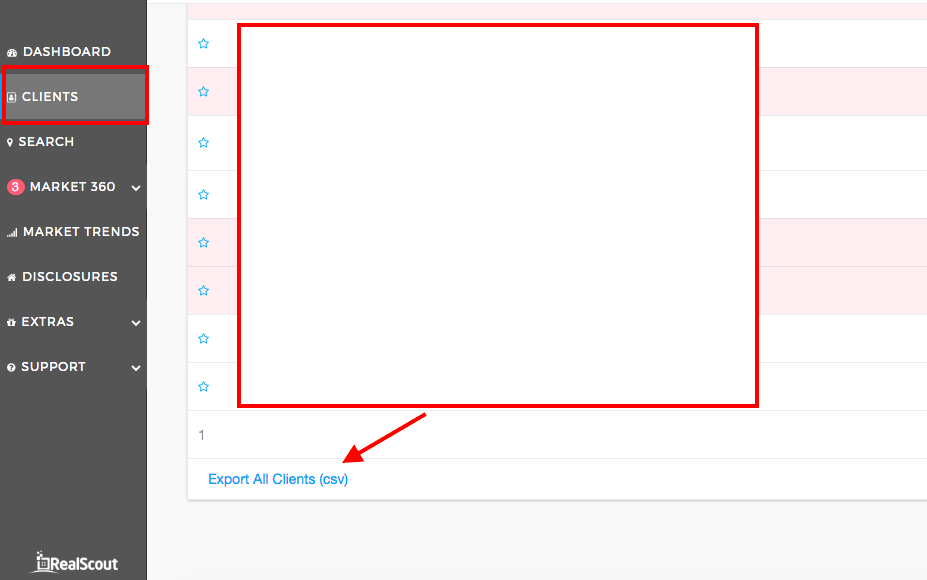 HOW DO I SEE WHO HAS UNSUBSCRIBED OR THAT I HAVE DELETED?
In RealScout, an agent can delete a client and a client can unsubscribe and delete their account.
Below are steps to view your all time RealScout client contact information specifying those who have deleted themselves and those that are still active.
Viewing Deleted Clients:
Click on the CLIENTS tab
Scroll down the list of clients
Click on Export All Clients (CSV File)
A spreadsheet will open with all your client's contact details
Look for column name Is Deleted
Once you locate the second to last column named Is deleted, those who say DELETED have deleted themselves. Or you as their agent may have deleted. And those who say FALSE, are still clients in your RealScout account.
HOW CAN I ADD SOMEONE BACK THAT HAS REQUESTED TO USE REALSCOUT AGAIN?
If your client unsubscribed and would like to start using RealScout again, please let support@realscout.com know their name and email and Member Success can help add them back for you.